Blog
Buffer
                                 Swiss Inspirations! 
Enjoy our pictorial inspirations on Facebook
Buffer
 The Swiss Cheese Toolkit is made up of a metaphorical item for each "slice" – or chapter – of the book.  Each item reminds us of an important life lesson so we can free ourselves to lead a positive and healthy life.   [Read more...]
Buffer
What's your Emotional Wellness IQ?  Take this short quiz and find out!
Buffer
When you think of the holidays, what comes to mind? If you are like most people, on the top of your list are family gatherings, time spent with close friends, lots of good food and drink, gift giving, a time of cheer and joy….and stress.
In our current precarious economic climate, with high unemployment, corporate downsizing, the collapse of the housing market, the conditions of the holiday season are shaping up to be stressful indeed. Despite these times of economic uncertainty, holiday gift giving is at the forefront of people's minds, creating a large amount of stress. In one psychological survey, 50-70 percent of people rated money and gift giving pressure high on their holiday stress list. Too many of us end the holiday season with charge cards run up along with our debt from giving gifts we can't really afford, while we carry around extra pounds we have accumulated by excessive holiday eating. For all the hype going into the holiday season, many of us are left with a post-holiday 'let down'.
Buffer
The Swiss is coming! On October 17th The Swiss Cheese Theory of Life will be available for purchase!
Here is a small taste to introduce you to the theory!
The Swiss Cheese Theory of Life uses Swiss Cheese as a metaphor for life itself. Life is not predictable and smooth like cream cheese. Our lives are really more like Swiss with all its distinctive holes, and without the holes, there would be no Swiss! Our lives, likewise, have inevitable "holes," and imperfections," yet these holes give us our unique character and depth. It's a fact that the larger the holes of the Swiss, the sweeter and more distinctive the cheese. What an analogy to our lives! We develop resiliency by overcoming challenges and obstacles. By moving through life's holes rather than getting stuck in them, we become stronger.
Buffer
Swiss Cheese Theory of Life Review/Sponsor Spotlight!! #CouponCabinHop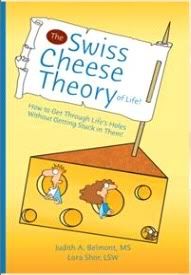 I'm a Stinky Cheese!! Are you?!!
It's the reason you are reading this review right now instead of several weeks ago. It's the reason I'm up until 1am (or 3am) every single night. It's the reason I'm behind at work ALL. THE. TIME.
I can't even begin to tell you the impact The Swiss Cheese Theory of Life has had on me and how much of it I wanted to share with you!!
Buffer
In the  first chapter of The Swiss Cheese Theory of Life, we focus on using regrets as learning experiences and stepping stones for the future, many people believe that if they have the chance, they would willingly get rid of unhappy regrets and memories of things that did not go well for them. In the 2004 movie Eternal Sunshine of the Spotless Mind in which the protagonist, Clementine, chooses to undergo a procedure on her brain to forever wipe out memories of the past. She was so much in pain after the break up with a man with whom she was very much in love; she decided to undergo the procedure that would wipe out memory of him, even though it would also wipe out all other memories of her past. Her ex-lover found out about this treatment she sought, and went to have a treatment to help him forget too. However, he stopped the procedure in the middle and changed his mind. He realized that with erasing the painful memories he also would have erased the beautiful memories of some of the happiest moments in his life. He chose to keep all the memories so he would not forget them, despite some of the ones that were painful.
Buffer
Spring Cleaning Your Mind – Uncluttering Your Emotional Closet!
1. Clean out your Mental Cobwebs - Along with cleaning out the closets, Spring is a great time to focus on "Spring cleaning" your mind. Clean out the cobwebs of old, tired ways of thinking that lead to negative self-talk, self-doubt, and the inner critic within. It has been estimated that the average person thinks about 50,000 thoughts per day. If even 10% are negative thoughts, which is an understatement for most people, that comes to up to 5000 negative thoughts a day on average!
Buffer
The Swiss Cheese Theory of Life!
Ten Take Away Tips
1. Life is more like Swiss than American or Cream Cheese, no matter how much we crave predictability and smoothness.